bestenergy
Dec 2, 2021
Eniscope Air Sense
Introducing one of the newest additions to our Eniscope Air Suite range - the Air Sense!
This multi-functional, surface-mounted IoT sensor is highly versatile, with core sensory functions including occupancy, light levels, temperature and humidity - perfect for providing standalone data or in conjunction with other energy saving technologies, like air conditioning control.
This really is a piece of technology like no other, standing alone as a real-time environmental sensor with huge value potential - that will not only optimise working conditions and air quality for staff, but will maximise customer experience, a real win-win!
Each product within our Air suite range has been engineered to operate using RF communication without the need for WiFi and comes fully equipped with a dependable LoRa network to save you time and money. With a stylish design, this compact device is easily mounted without the need for an electrician, operating effectively in temperatures ranging from -20C to 60C.
"The Eniscope Air Sense provides valuable context to energy saving devices. Take air conditioning for example. The temperature data from Air Sense, taken at occupant level - not ceiling level - helps to optimise aircon for the real operating environment."- Troy Wrigley, CEO @ Best.Energy
Fast to deploy, discrete, robust. Air Sense is a valuable component of any energy efficiency project.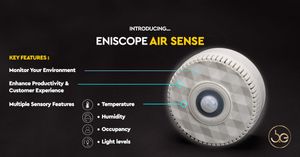 Why Energy Efficiency?
Energy efficiency is the cheapest, quickest and cleanest source of energy available. Every kWh saved is a kWh not needed in the energy production process. But more than this, efficiency often offers the best return on investment for any sustainability solution - making it the number one option for businesses everywhere.
Efficiency is very much data driven, which is where the Air Sense product shines. Contextual data on temperature, humidity, air quality, light and occupancy (with more functionality available to add-in) all helps deliver optimum efficiency in the projects we run here at Best.Energy.
If you would like to know more, please follow the link below to view further information about our Eniscope Air suite: